WELCOME to the CT.TT A - Bethany (CT.) TTC page !
Bethany TTC - serving CT.TT Players since 2012
As of June/July 2021 Bethany TT has resumed play on FRIDAY nights until further notice. Please Text Me at (203) 525-6194 to confirm schedule this fall/Winter and/or consult www.RealTableTennis.NET (Homepage) TEXT/CALL 203 525-6l94
**********************************************************
Join 10 to 15+ players - all ages & skill levels - unrated to experts (USATT rated 2200+)
on 6 to 8 PRO tables in a large Gym w/ great floor & lighting
- no reservation or commitment required - - come alone or bring friends and family
- low nightly fee- ($10 per player visit as of Oct 2019)
just confirm times & follow the directions below
Novice to Champion, Young or Old, Male or Female
ALL are invited to play -just show up - time & site below
See CT TTA Page for Bethany and Bethany Schedule exceptions or updates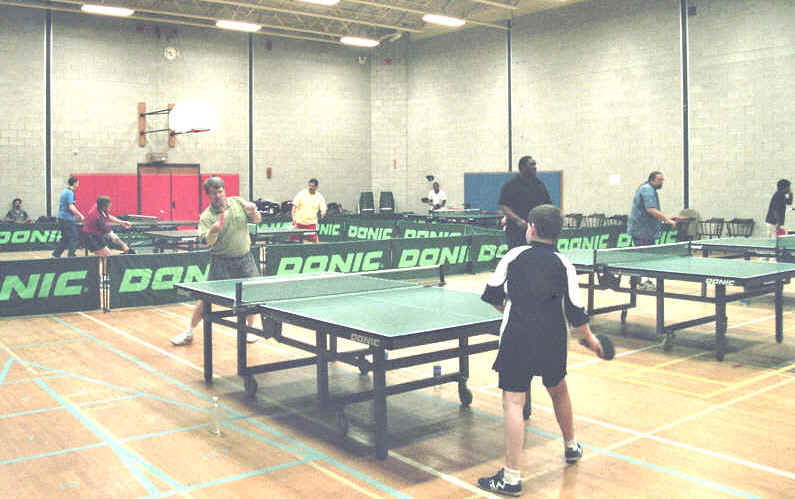 Above: Coach Dave Strang (green shirt) coaches David Katz - 2006 CT Jr. Champ

Bethany TTC
in South Central CT ~near rte 63, between New Haven & Wtrbry)
6-8 tables Year-round Play
Friday: 6:30-10:30 pm &
**: **+
* * +sessions often lengthened based on turnout+
LLat Bethany Town Hall Gym - 40 Peck Rd.
Summer 2021 Schedule FRIDAYs 630p TEXT/CALL 203-525-6l94 for INFO after Sept 1
Do you drive a distance to play ? - Our current playing schedules can be confirmed by phone:
call anytime - 24/7 for regular schedule info by recorded messages.
New 'local' numbers - (2O3) 525-6194* (Bethany TTC) or (203) 525-6l94* (BETHANY TTC)
*Calls to these new numbers may forward to CT TTA info line or my cell phone - at no LD charge

Playing sessions canceled (rarely) - based on severe weather (or major holiday) during or shortly before scheduled play - may be rescheduled, on a day as close to the missed session as possible. Call

See the News Page Link (top left column on this page for more detailed information) -

Call (2O3) 525-6l94*to confirm the scheduled sessions - if severe weather threatens safe travel
Changes in our club schedule are rare, but should the schedule number be unavailable , and you must confirm there aren't any changes, call or text my cell phone @ (203)525-6l94 PM HOURS ONLY and leave a message & your name & town.



Long-time Bethany Players
L-R: M. Lazerev, D.F, Rich.Dewitt,

Cancellations occur occasionally-
We ARE OPEN during MOST storms & holidays
DON'T assume we close for every storm or holiday
CALL for info = FF info phone number below
DON'T assume we close for every storm or holiday
CALL (2O3) 525-6194 to confirm the regular schedule
Last minute changes in our club schedule are rare, but should the schedule number (above) be unavailable ,
or If severe weather/emergency threatens a cancellation :
Call (or text) my cell phone at (2O3) 525-6l94 (only) on the scheduled playing day (or if for info NOT available here - e-mail preferred).
**Schedule changes may NOT always be listed HERE